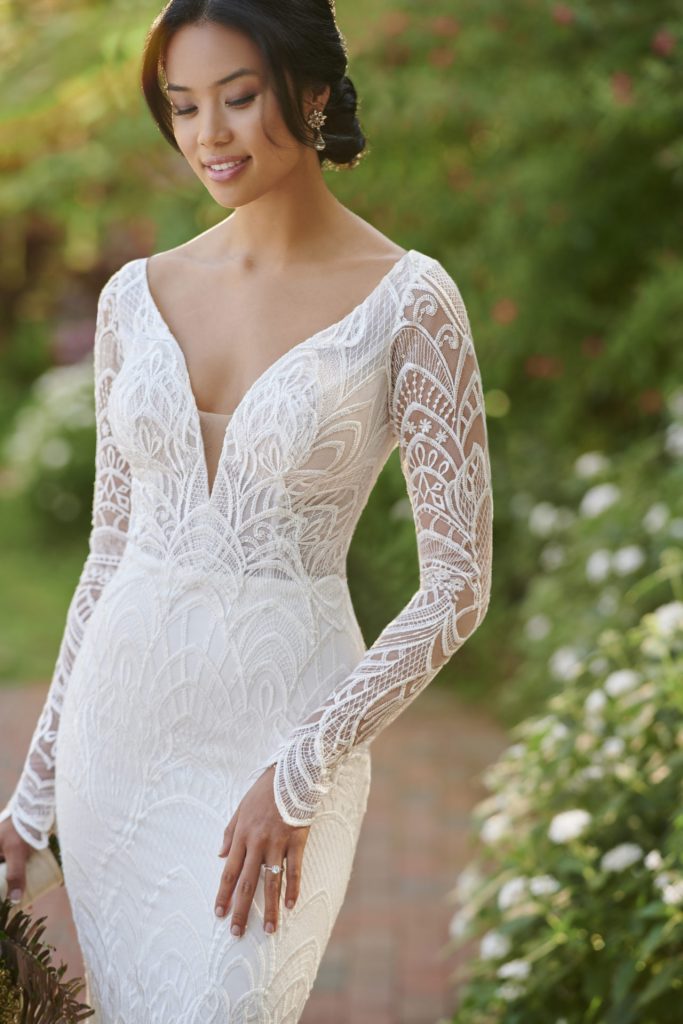 MIXED-PATTERN LACE WEDDING DRESS WITH BEADING
For the style maven in every bride, this high-fashion statement will satisfy your every desire! Intricate graphic laces and stunning beadwork are modern and completely unique as they create a web of eye-catching detail over the silhouette. Featuring an array of sparkling arched patterns with a mix of swiss dotting, delicate florals and geometric shapes, these details are artfully layered to create different levels of opacity in each part of the gown. The illusion tulle on the long sleeves creates a floating lace effect, while the multiple layers of laces create more coverage through the bodice. The wide V-neckline curves in slightly at the bust and narrows toward the middle, which is also masked with illusion tulle. The extra-large keyhole back clasps at the shoulders and widens into a triangle shape, creating a slight cutout effect in the sides of the bodice for a hint of sexy detail. Finally, the slight train is finished with gentle scallops to complete this masterpiece in lace. This gown is available with or without sleeves.
Store Sample
Samples available to try on in store:
Size 12 – Ivory Gown with Porcelain Tulle Plunge
Order Options
Sizes: 
7 – 22
Fabrics:
Lace
Detail Options:
Clear Beading
Fabric Colors Available:
Ivory Gown with Ivory Tulle Plunge
Ivory Gown with Porcelain Tulle Plunge
Ivory Gown with Mocha Tulle Plunge
White Gown with White Tulle Plunge
White Gown with Porcelain Tulle Plunge
White Gown with Mocha Tulle Plunge
Back:
Zip Up With Fabric Buttons
Orders can take up to 5 – 6 months to be made.
Mon – Wed   09:00am-5:00pm
Thursday       09:00am-6:00pm
Friday            09:00am-5:00pm
Saturday       09:00am-3:30pm
Sunday           10:00am-2:00pm